Dr. Russell's Training and Experience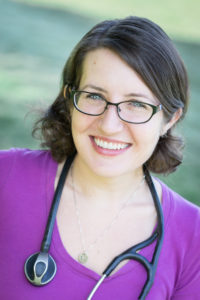 Dr. Ashley L. Russell graduated from the Southwest College of Naturopathic Medicine in Tempe, Arizona.  Dr. Russell's clinical experience was heavily focused on women's health, homeopathic medicine, and botanical medicine.  She completed several clinical rotations at the Sojourner Center, a women's domestic violence shelter. She completed additional training in botanical medicine from Gaia Herbs in North Carolina. In addition, she has received over 200 hours of Biodynamic Craniosacral Therapy training.
She is owner and naturopathic doctor at Frederick Natural Health Center in Frederick, Maryland, and an expert on natural treatments for women's health, specializing in period issues and menopause.  She is currently working on writing her first book, "Reclaim Your Cycle: The savvy woman's guide to naturally balance your hormones to live a PMS-free and energy-filled life".
Dr. Russell is adjunct faculty at Frederick Community College teaching Nutrition, Anatomy, and Physiology. She has previously taught Biochemistry and Genetics. She also regularly teaches classes at the Common Market and gives other health talks to the public.
Dr. Russell held leadership positions for various organizations while in medical school, including VP of Legislation for the Naturopathic Medical Student Association (NMSA), and President, Vice President, and Public Awareness Chair for Naturopathic Advocacy and Community Awareness Team (N- ACT).
Prior to medical school, she received her B.S. in Applied Ecology from the University of California, Irvine, where she spent over a year researching the impact of bioremediating plants on Costa Rican soil.
In her spare time, Dr. Russell enjoys baking vegan, gluten-free treats, knitting, curling up with a good book, and spending time with her dog, Honey.